Advance with Time. Innovate with Passion.
與時俱進 熱情創新
Paidel Watch House was established in the Jia-Mei industrial area, Zhonghe in 1988.
In the beginning, export trade was our main business. Since the economic boom period of the 1990s,
people have begun to care about their quality of life. This naturally led to more people purchasing watches and other accessories.
As a result of this, we decided to expand, allowing for the introduction of several new brands into Taiwan. In order to provide the best
shopping environment and after-sales services for our consumers,
we created a number of branches within various department stores, beginning in 1999.
派迪爾鐘錶1988年創立於中和家美工業區,草創時期以外銷市場為主,1990年台灣經濟開始起飛、國人日益重視生活品質與穿著品味,
進而開始代理國外時尚流行腕錶。爾後爲提供消費者更好的選購環境與售後服務,
遂於1999年開始於百貨公司設立「派迪爾腕錶專櫃」。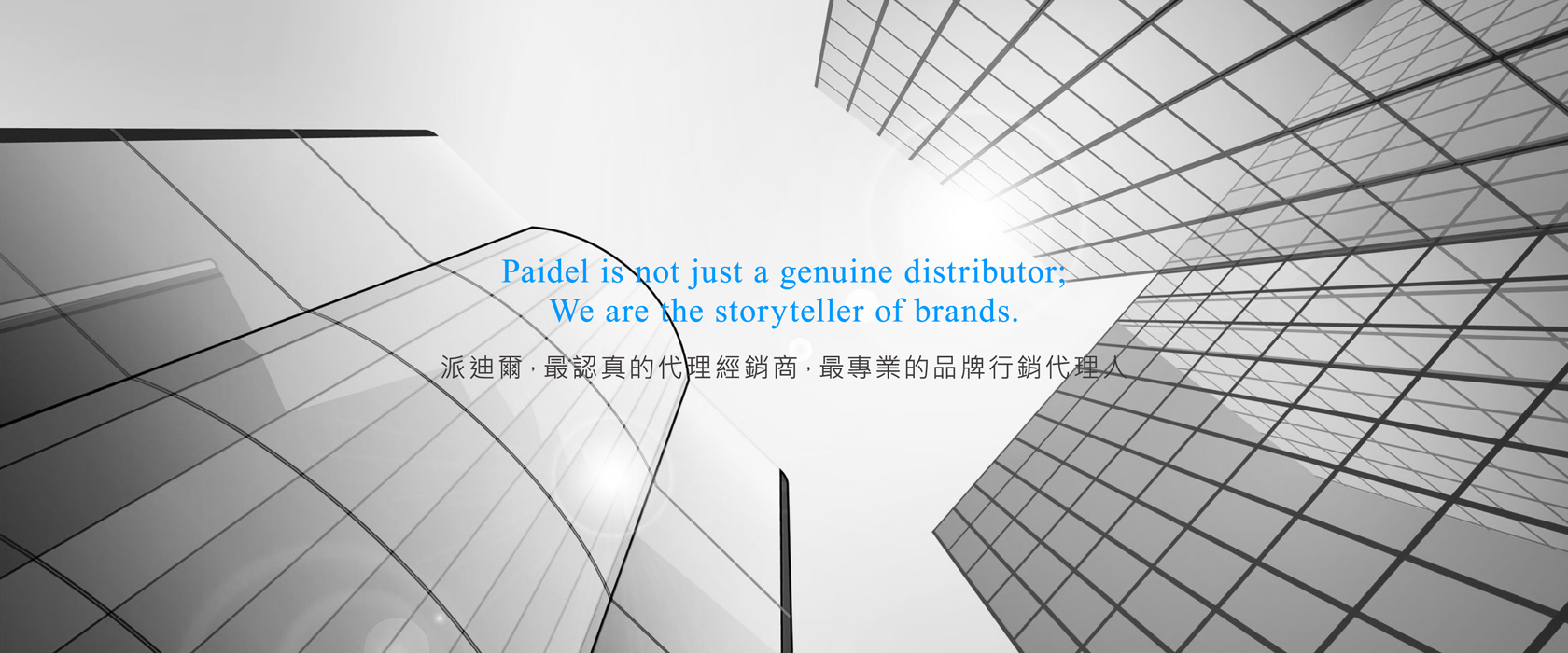 After 26 years, our sincerity and commitment has helped a vast number of fashion brands to enter into the
Taiwanese market and remarkably accumulate a good reputation. As time goes by,
we have progressed and become the best retailer and distributor of fashion watches in Taiwan.
We pay a lot of effort to manage these brands through our professional branding-team, supporting them
to continue to expand and develop. We also help our partners to formulate the most efficient and effective marketing strategies,
in order for their products to be instant successes within Taiwanese market. Becoming the most cooperative partner into Taiwanese market is
on the top of Paidel's list. We believe we can provide the most professional, and the most trustworthy service for our customers.
如今,派迪爾已與時俱進的歷經26個365天,一直承諾以最誠摯的心經營來自世界各國的時尚流行手錶品牌,
期間它更不斷蛻變,持續成長,重視品牌經營。
現在,它已不僅是一家鐘錶代理商,更是專心致力與「來自全球的品牌」共同打造-流行鐘錶業的"全新價值",
我們期望能成為業界最理想的合作夥伴,提供消費市場最適宜的行銷策略,並追求創新、富創意的經營模式,引導世界知名品牌深植台灣。
派迪爾鐘錶,期望能提供最專業的經銷品質,用最具優勢的服務品質與創新的品牌行銷力,
成為您最值得信賴的品牌代理與經銷商。
Passion, Trust, Innovation
以人為本-熱情、信賴、創新
Different from other fashion industries, Paidel respects the value of "humanity".
We care about each of our employees' expertise and their critical thinking. We provide a friendly working
environment for them so that they can fully focus on brand-development. Most importantly,
all of our employees always maintain a fresh, passionate and positive approach, no matter their age or experience.
不同於大眾所認識的流行產業,派迪爾非常重視「人本價值」。尊重每一位夥伴的專業才能與差異性。
我們希望營造的是如同朋友般的夥伴關係,「用心傾聽、熱情無限」是派迪爾同仁最大的特質。
更特別的是,您會發現,派迪爾的同仁們不分年齡,總能保持著心境上的年輕與熱情,而這正是派迪爾公司重視人本價值的最大體現!
Be Enthusiastic.
用心傾聽 熱情無限
We always stand by our clients' side providing the best service with a well-organized team.
We listen to our clients' needs and give them support to the best of our ability.
As a distributor, earning customers' confidence is essential. Communication and trust are
still the fundamental principals of Paidel. Even though we are ambitious, always attempting to innovate
and develop, we never forget our key principle - "people-oriented". That is who we are.
期待同仁們能站在客戶立場思考,提供最好的服務給每一位客人。
當您用心傾聽客戶需求時,自然就會產生更多良好的互動與回饋,同時也能爲彼此創造一段愉快的合作體驗。
也因此我們與很多客戶建立了如同好友般的深厚情誼與信賴,這些就是我們最大的收穫!
不論時代如何演進,人與人之間的互動與信任仍是派迪爾最重要的課題。
我們傾聽客戶需要,勇於創新改變,「以"人"為本」永遠是我們不斷努力與時俱進的原動力!